Learn how indispensable quality control is in the field of precision engineering and how CAM Resources keeps an intact testing process to deliver precision molds with great tolerances for their manufacturing customers.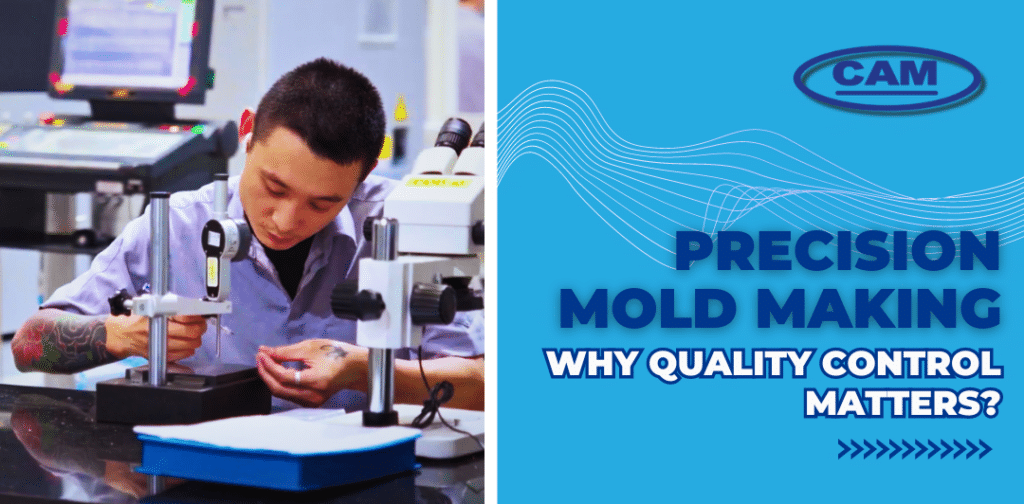 Precision engineering is a delicate and intricate field that requires a keen eye for detail and a steady hand. And within this field, precision mold making is no exception. The molds produced need to be perfect, as they will be used to create important components or devices. Inaccuracies or flaws in the precision molds can cause major disruptions in production lines or even compromise the integrity of the final product.
This is why quality control is an essential part of the precision mold-making process. It is critical to ensure that every aspect of the product meets the required specifications and that the finished workpiece is of the highest quality. Without rigorous quality control, even the most skilled engineers and technicians can fall short of their client's expectations. In this blog, we'll explore why quality control matters in precision engineering and how it can make all the difference in every component and part.
What is precision engineering?
Precision engineering is the crucial core of manufacturing. Every part or object that needs to fit or attach to a larger end product in a specified manner requires precision. The more complex it is, the more serious the level of precision is expected.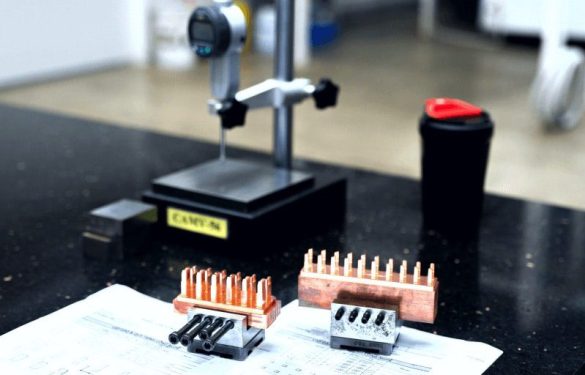 To achieve finished products with high quality and tight tolerance that can fulfill its role, manufacturers need to nail the process right from square one, while working in harmony with intricate and advanced equipment that is either manual or CNC-based. This process entails shaping a large piece of raw materials into smaller parts and components that need to be accurate down to the most minimal of specifications.
At CAM Resources, we handle all kinds of blueprints for industry-wide clients, from automotive to electronics, and medical. Our precision engineering process includes molding, tooling, milling, and surface grinding that can cater to manufacturing in one stop. Our products include precision molds and die sets, precision mold components, jigs, and fixtures.
How precision mold components are processed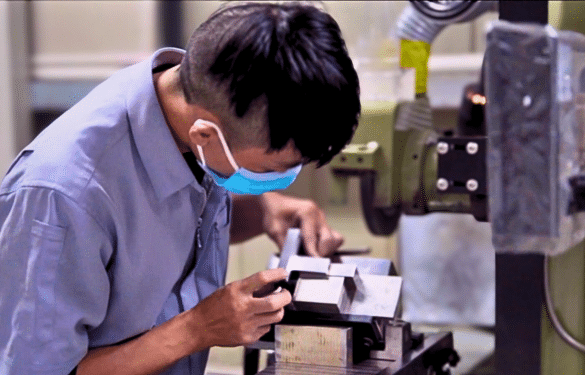 The mold is a physical template deriving from intangible design. Precision mold components require absolute precision because all end products need to be identical to one another, and one flaw can alter the desired result. Examples of bad molding results can be found in everyday life. For example, power plugs that are asymmetrical, or USB ports that are wonky and can't connect properly.  
To avoid such things from happening, precision mold components are processed through various kinds of machinery with careful attention to ensure on-point shapes and features of output. The technicality of the mold can first be analyzed using computer software such as CAD or CAE. Then mold components are run on CAM software to accurately estimate the manufacturing process, including which machinery to use and the type of materials that are the best fit. Depending on the complexity of the specification, CNC Milling, EDM, and/or wire-cut machines are used to perform the work of shaping materials into precision mold components. Surface grinding is used on end products to create the desired polished and flat finish.
Last but definitely not least, processed molds are put through the QC department's strict measures before being dispatched to clients. Quality control is an art, and no product is shipped without a thorough touch of said art.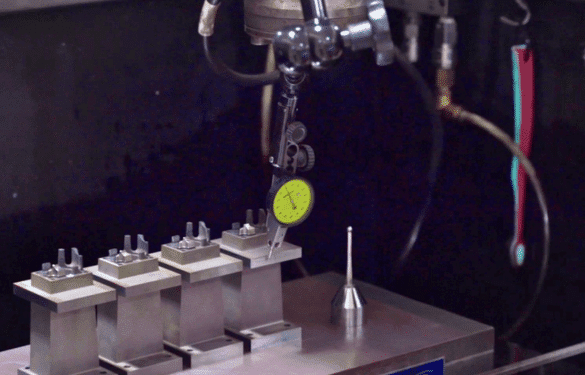 Why quality control is vital
A QC department for precision engineering is a must-have because of the nature of the profession. With quality control, customers are delivered the components they are promised – functional, compatible, precise, and defect-free. Once a defect is identified, it can be an example for future blueprints, thus making production more cost-effective and less time-consuming.
How quality control is done at CAM Resources
ISO 9000 defines quality as "the degree to which a set of characteristics of an object fulfill a requirement". At CAM Resources, quality control follows that principle to give customers the products that they demand, with dedicated personnel working together with machinery.
Zero tolerance is practically impossible in precision engineering, but at CAM Resources, we aim to dispatch products that are near-zero tolerance in accuracy. Our numerical data is well-stated and well-defined, avoiding the use of ambiguous talk in our testing procedure.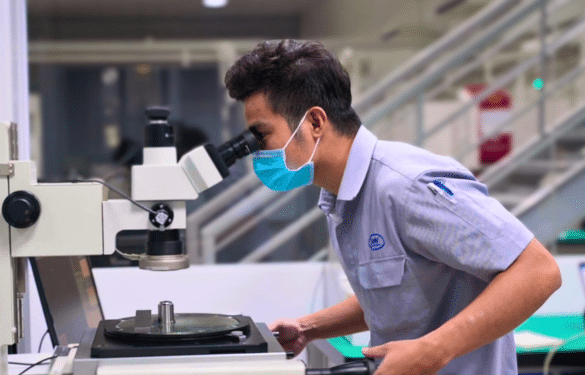 The process of quality control process at CAM Resources goes as hard as the precision mold-making process itself, with meticulously planned steps and state-of-the-art QC equipment setup provided by reliable names within the field.
Height gauge:

The device speaks for itself – to measure the height of components accurately. Workpieces are measured to ensure that flatness, height, and straightness are as specified. Our height gauge is from Mikrometry.

Measuring microscope:

Similar to an optical microscope, it allows quality control personnel to monitor the workpiece on a microscopic level in width and length. Our measuring microscope is from Sinown, Olympus, and has +/- 0.002 accuracy.

Hardness tester: The process of pressing an indenter against the surface of the workpiece to determine the strength of its material. Our hardness tester is from Mitutoyo with +/-0.001 accuracy.
CAM Resources ensures quality in produced molds in an all-rounder manner. No dimension is overlooked in the process.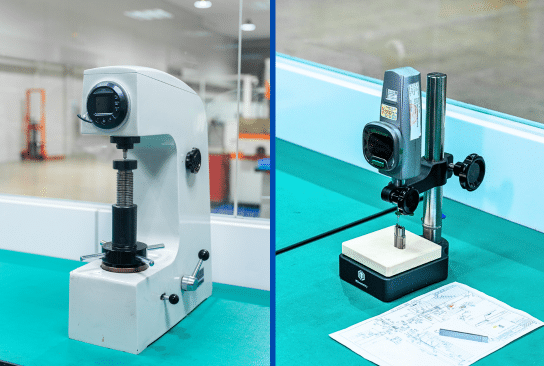 3. The skilled touch of operators
Besides frequently maintained tools, CAM Resources constantly train and update technicians to stay ahead of their game. Years of experience within the precision mold industry keep personnel alert and motivated to solve complications that arise during the process. At CAM Resources, we rely on the combination of both humans and machines to ensure top-notch quality for your precision molds and tools.
Your precision mold blueprints and specification deserve care and dedication from start to finish. With constantly improved and researched quality control procedures, we aim to give you elevated quality in every number of your specification. From the initial planning stages to the final product, we have quality control measures in place to guarantee that our work meets the highest standards. Our motto is to give you a perfect mold with absolute precision!