CAM Resources unveiled its prospects at the SIMEXPO 2023 in Da Nang as a prominent player in the precision tooling industry.
Cam Resources has attended the industrial expo in Da Nang, one of the most industrialized cities in Vietnam, which was seen as an exploration opportunity to network with the industry and get exposure as a precision molding and tooling specialist.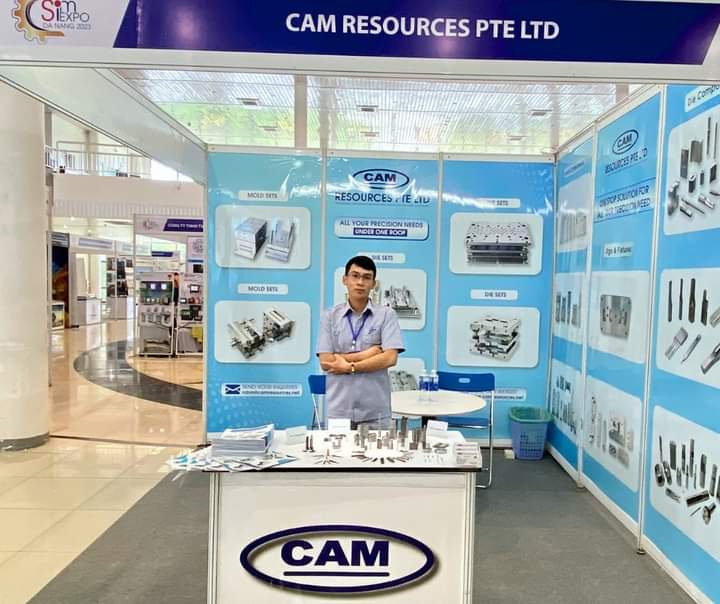 The Supporting Industry and Manufacturing Exhibition (SIMEXPO 2023) is organized by the Department of Industry and Trade of Da Nang City with the goal of promoting trade connections in the industry. Held between September 12 and 14, 2023, this was the first time such an event was hosted by Da Nang.
Da Nang is one of the top 5 largest cities in Vietnam and is regarded as a gateway to the central region of the progressive nation. Over the years, Danang has attracted many investors and is rapidly emerging as an industrialized city besides the capital Hanoi and the commercial hub of Ho Chi Minh City.
CAM Resources, along with many other 120+ exhibitors both locally and internationally, proudly took part in the event. With 200 booths in action, SIMEXPO served as an excellent platform to connect the business communities across many industries under the theme of manufacturing technologies.
For CAM Resources, it was a terrific opportunity, not just to be an exhibitor but also to understand the local market around Danang, understand the mold and die needs of the customer, and explore our potential in the precision tooling market. Our initial agenda was to gain exposure and awareness and eventually find potential customers.
We went out there to the SIMEXPO 2023 with the distinct advantage of being able to offer molding solutions to the heavy metal industry, and after attending and witnessing this at this mega event, it turns out that we are right. Indeed, we are very excited to make some connections in the field and further penetrate into the heavy metal molding space.
On the other hand, it was a great opportunity for the players from several industries to showcase their potential in terms of products, services, and technologies. They include machinery, mechanical engineering, automobiles, automation, electronics, textiles, footwear, and other manufacturing-supporting industries.
Browse through the photos above to get a glimpse of our team in action. At CAM Resources, we take pride in taking part in all the industry networking events that help keep us on top of the game. As an established brand constantly challenging its potential, we see it as an absolute necessity to take part in such events. Like our Founding Partner Robin always says, "If you never try, you will never know!".